The Guide to Skincare and Style
Written by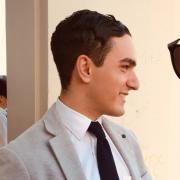 Vahe Grigorian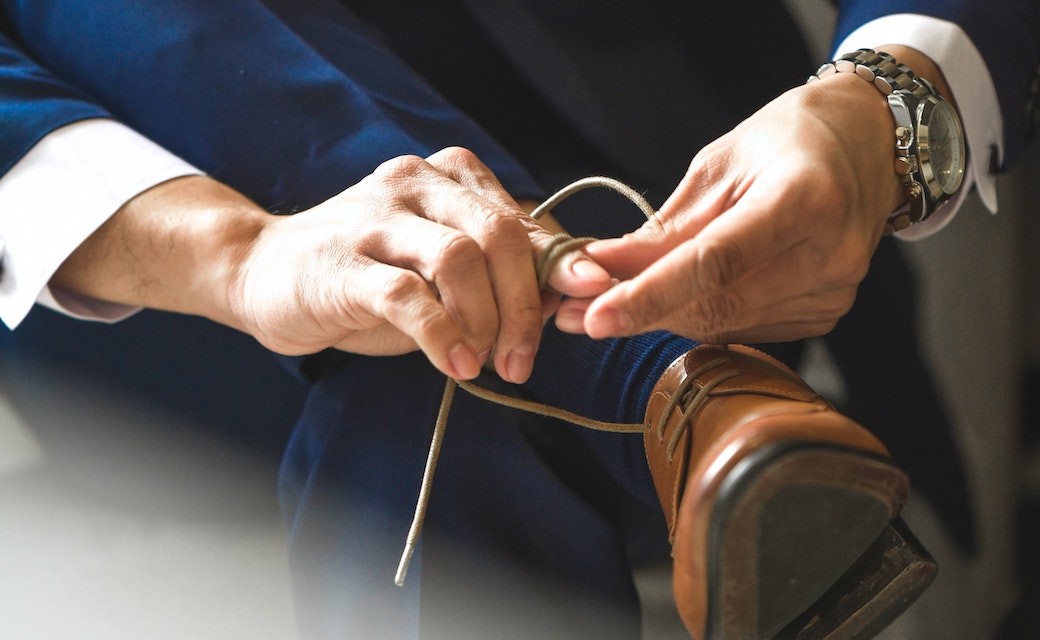 A well dressed man tying his dress shoes on the day he's set to tie the knot.
How can we look dapper when we wear formal wear such as suits, sport jackets, and blazers? As defined in Google, "dapper" means "neat and trim in dress and appearance (typically used of a man)." Today we explore how to create an outfit that looks both "neat" and "trim."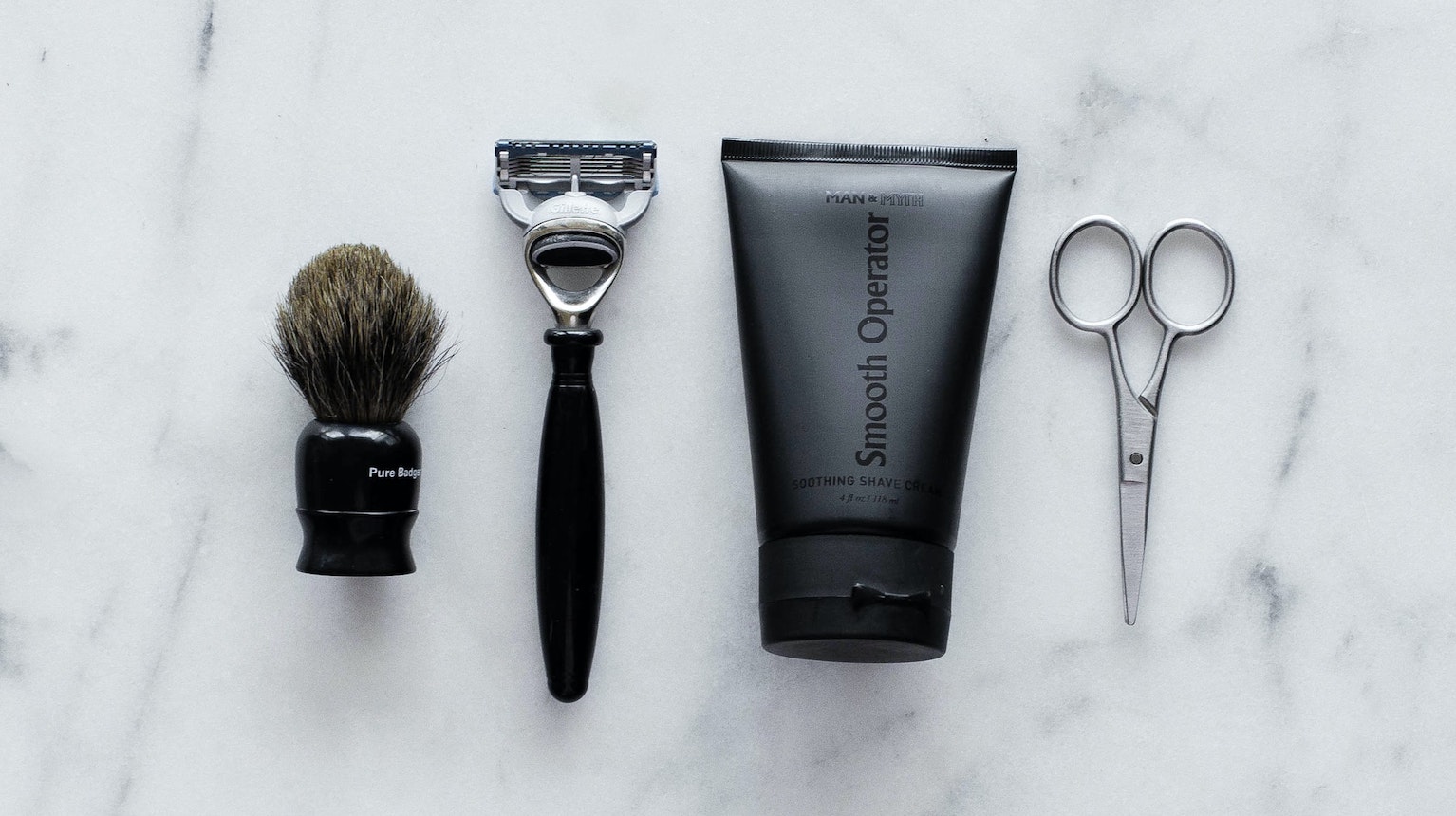 Neat - Before we discuss clothing, we should take a look at your grooming. If you do not already do so, make sure you are washing your face with face wash every day and night to eliminate oil accumulated throughout the day. You should use a water-based foam cleanser and make sure to moisturize after every cleanse. Use a lighter moisturizer if you have oily skin and a heavier one if you have dry skin. Make sure to apply sunscreen after moisturizing in the morning. Lastly, exfoliate with a chemical exfoliant once or twice a week (physical exfoliants can scratch the skin). Make sure to shave or trim your beard, fingernails, and cuticles as needed.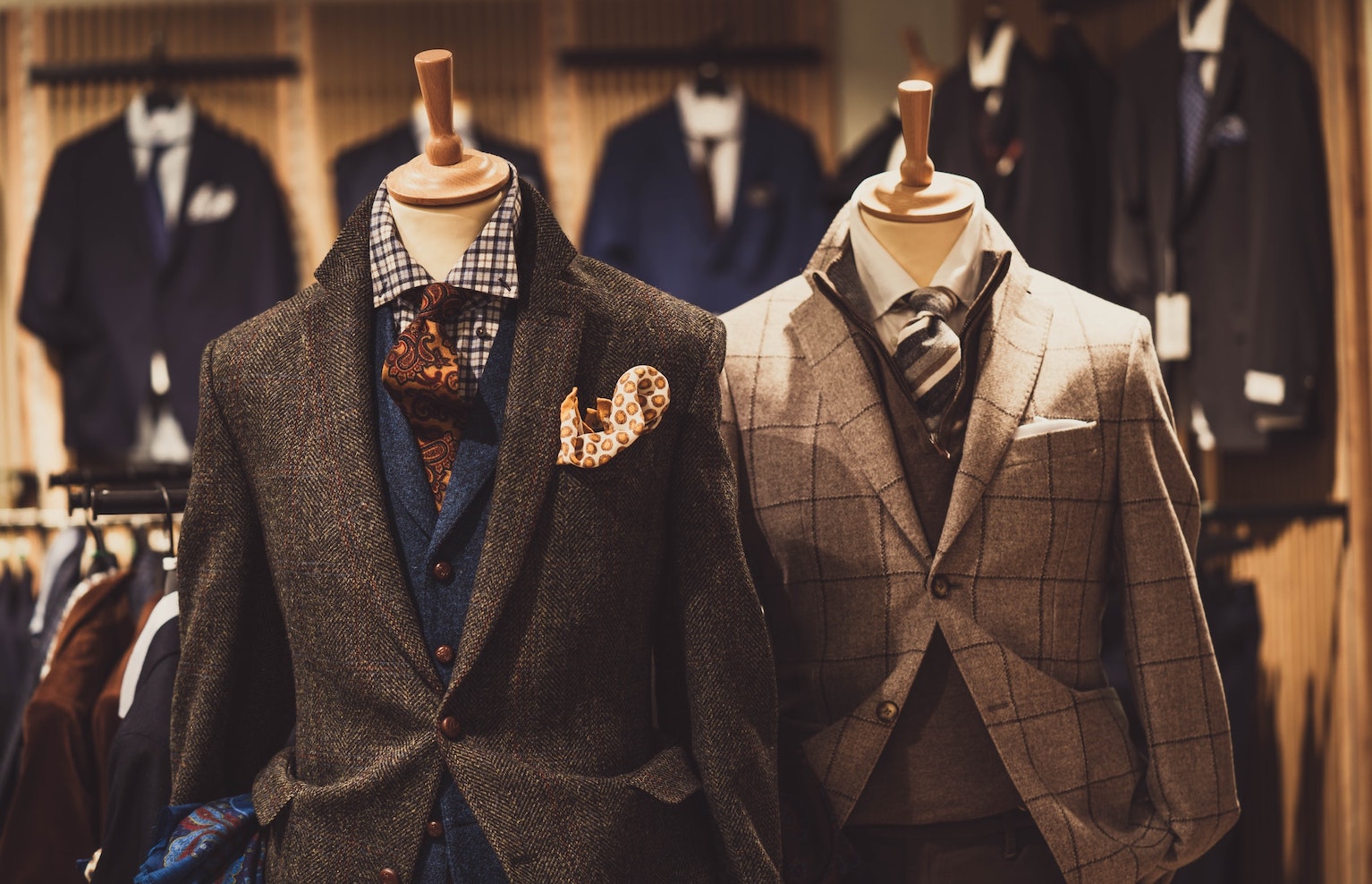 On the topic of neatness, make sure the clothes in your closet do not smell like sweat and visit the dry cleaners as needed. Make sure your dress shoes are shined. If there are only a few minor scratches, start by wiping off the shoes with a cloth, then use another cloth to apply a coat of wax polish (use one of the same colors as the shoes, or a neutral one), then buff with a horsehair brush and wipe again with a dry, clean cloth to make sure there is no excess polish on the shoes. If the leather looks worn and dry, then rehydrate with cream polish in the corresponding color using a cloth, then buff with the horsehair brush. Apply wax polish, then buff again. Finally, wipe off excess polish.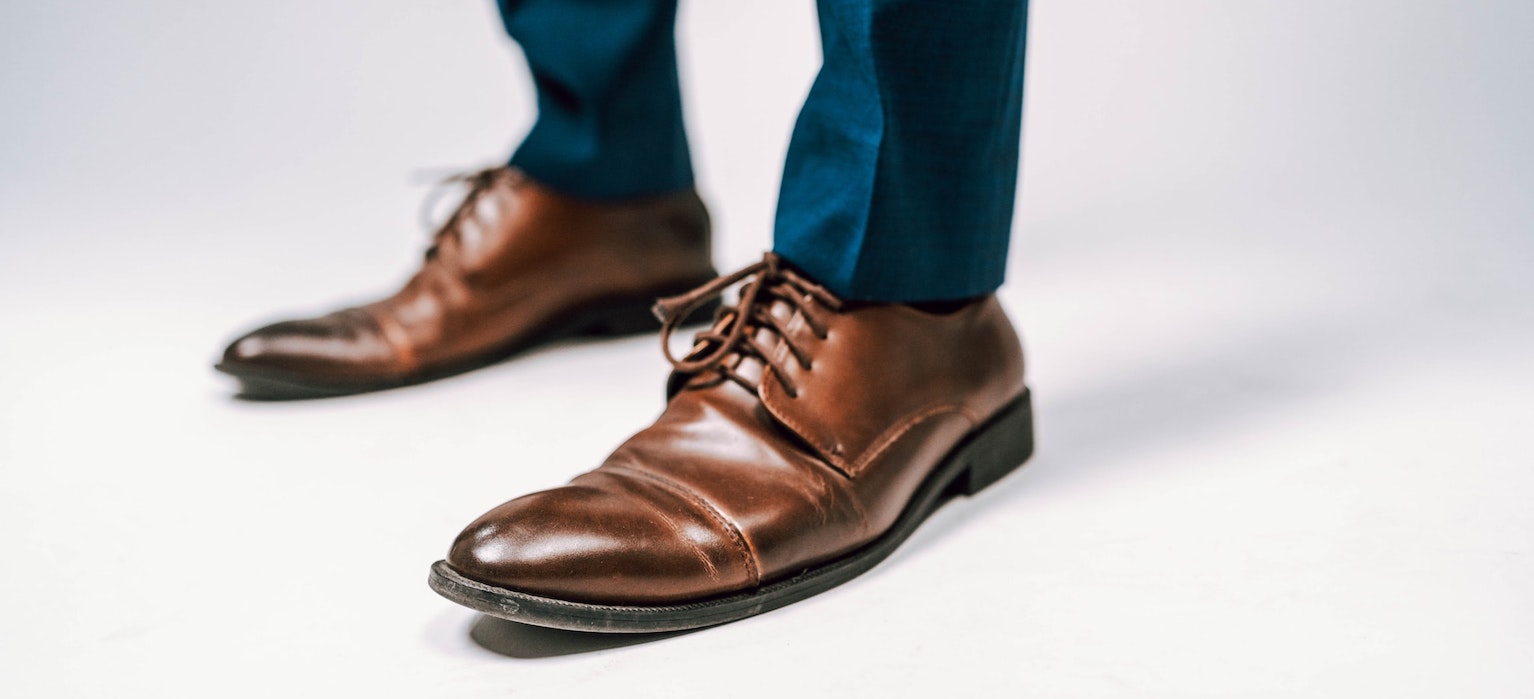 Trim - Your dress shoes should hug your feet snugly. Typically, the size that fits you snugly is half a size below what you wear in sneakers, but at the end of the day, you should try them before you commit to them. They may feel tight when you first try them, but the leather and cork inside, if they are Goodyear welted, conform to your feet over time.

Your socks should rise enough such that your leg hairs are not exposed when you sit down.

Your pants should be at the right length to either have one or no breaks as they fall to your ankles. The rise should be high enough such that your groin is comfortable while sitting and moving around. If you have wide hips or thighs, consider pleated pants that will conform to your body type better than a straight fit.

You can wear a belt, suspenders, or no belt. If using suspenders, make sure your pants can accommodate them and avoid clip-on suspenders. If you plan to wear no belt, make sure your pants do not have belt loops and have side adjusters instead, to avoid having empty belt loops.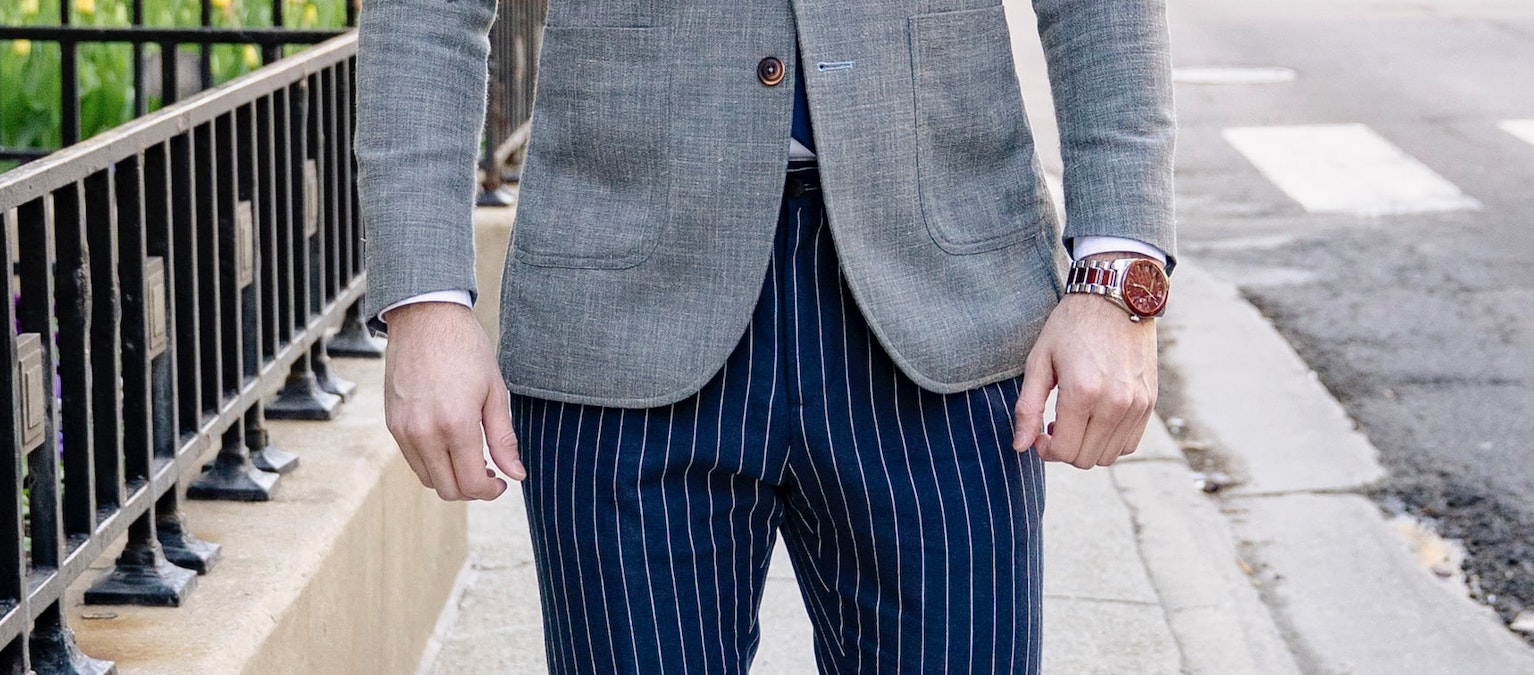 Make sure your dress shirt has sleeves that are just long enough to peak out of your jacket, 1/4-1/2 inches, when you are standing relaxed. A medium spread shirt collar works for all face shapes, a narrow-spread collar complements round face shapes, and a wide-spread collar complements long face shapes. A shirt with no breast pockets is more elegant than a shirt with a breast pocket.

Your tie should be tied long enough to end just above your waistline. Make sure the tie knot is big enough to cover the entire space in the shirt collar, but not too big to be cramped inside this space.

Your suit jacket should have sleeves just long enough such that 1/4-1/2 inches of your dress shirt show through. The gorge should not be too high as to fall on your shoulders. There should be no extra fabric in the shoulder area and you should be able to breathe comfortably while the jacket is buttoned. For jackets with two buttons, the top button should be buttoned when standing and unbuttoned when sitting. For jackets with three buttons, the top two should be buttoned while standing and unbuttoned when sitting.

Your pocket square should be large enough to reach the bottom of the breast pocket when tucked in and it should peak out about 1/2 inch. The presidential fold works for all occasions, while more creative folds can be worn in relaxed environments.

Google's definition of "dapper" failed to encapsulate the importance of colors, so we will go over this in passing. The leathers in your outfit should match. This isn't a hard rule as it is not always practical for browns. In addition, your metals, such as a watch and belt buckle, should match. Your jacket, pants, shirt, tie, and pocket square should either give a summer/spring vibe or a winter/fall vibe. For the summer/spring, try to have your jacket, pants, and shirt made of light or breathable fabrics, like cotton, linen, or fresco wool and your entire outfit made of summery colors such as light grey or pastels. For winter/fall, opt for heavier fabrics like tweed or flannel and opt for more muted colors in your outfit, like dark brown, dark grey, and navy blue. You should stay away from ties that appear too flashy, like bright floral ties, since your goal should be to seem understated to others.


About the author: Vahe is a passionate hobbyist of menswear and classic apparel. He believes that a timeless sense of fashion can enrich the life of any man, whatever walk of life he may come from.
View All Articles